About Renée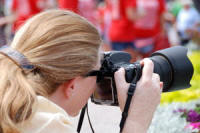 I was first introduced to photography by my Dad who is an avid amateur photographer with decades of slides all cataloged and organized. As a kid, I remember playing with an old Brownie Hawkeye and taking grainy black and white pictures with an Instamatic – flash cubes and all. In my early twenties, I was reintroduced to photography by an old boyfriend who gave me my first SLR – a Minolta which was nearly as old as I was. While the boyfriend didn't last, I haven't been without a camera since.
In 2004, after years of shooting film, I made the jump to digital and haven't looked back since. Today, my primary camera is a Nikon D700 with a D80 as a back-up. However, I've also taken some fun shots with my point and shoot as well as my iPhone. So no matter where I am, I always have a camera close at hand.
I'm also very fortunate to have a supportive partner (and husband) with a great eye. If two heads are better than one, then four eyes are certainly great when framing a shoot!
I would describe my style as "eclectic". I take shots of whatever strikes my fancy. One day might be a fall landscape and another it might be one of our "kids" – 2 golden retrievers and a ginger tabby cat. If a carpet fuzzy looks interesting, I might grab the camera for that too! What I love most, though, is finding the story in the picture and being able to bring that out.